As one of the finest contemporary jewelry design studios in North America,
Pearce Design
presents a full selection of jewelry for the discrimination collector who wishes to stand out from the crowd. Come and peruse a limited selection of our jewelry designs
Jewelry & Gems Consulting
We now have a store on Etsy to make your year 'round shopping easy.
www.Etsy.com/PearceDesignJewelry
Shop from the comfort and safety of your own home. We have been designing& adding new items daily
If you see it here but not on Etsy, shoot us an email and we'll give you the particulars to complete your sale
We are enjoying this new adventure in marketing.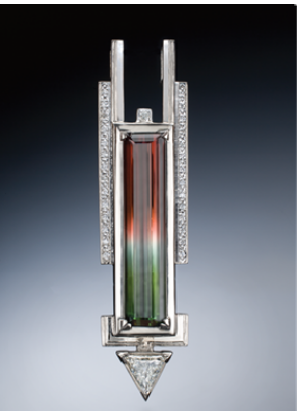 We are passionate about our life and our livelyhood. What makes our services unique is our access to resources in the jewelery industry that we have cultivated over the past 50 plus years. We have the ability to repair and replace your special items. To listen and design an exquisite piece of art jewelry to your specific request - for over 50 years that has been the Pearce Design difference!
Fred & Kate Covid-19 update

30 Carat BiColor Tourmaline
with Diamonds in Platinum